ADR Contract Clauses are used to establish how disputes will be resolved using alternative dispute resolution (ADR). Many times, a simple dispute can cost you months in court and tens of thousands of dollars in legal fees just to find out that it was a misunderstanding. Ninety-four (94%) percent of disputes start out as misunderstandings or miscommunication. A proper existing ADR contract clause stops most court action and redirects the dispute to less adversarial methods to resolve the dispute.
Who Employs ADR Contract Clauses ?
These clauses can be multi-tiered so that if the dispute is not resolve or not resolved within a specified timeline it goes to the next level. This is VERY important when you have a multi-tiered organization. Not every dispute needs to make it to the CEO's desk or brought before the board of directors. Also, disputes not handled sufficiently by supervisors or involve supervisors need an overview process before the dispute exacerbates.
Steps Can Include
Initial meetings
Negotiation
Conciliation
Mediation
Arbitration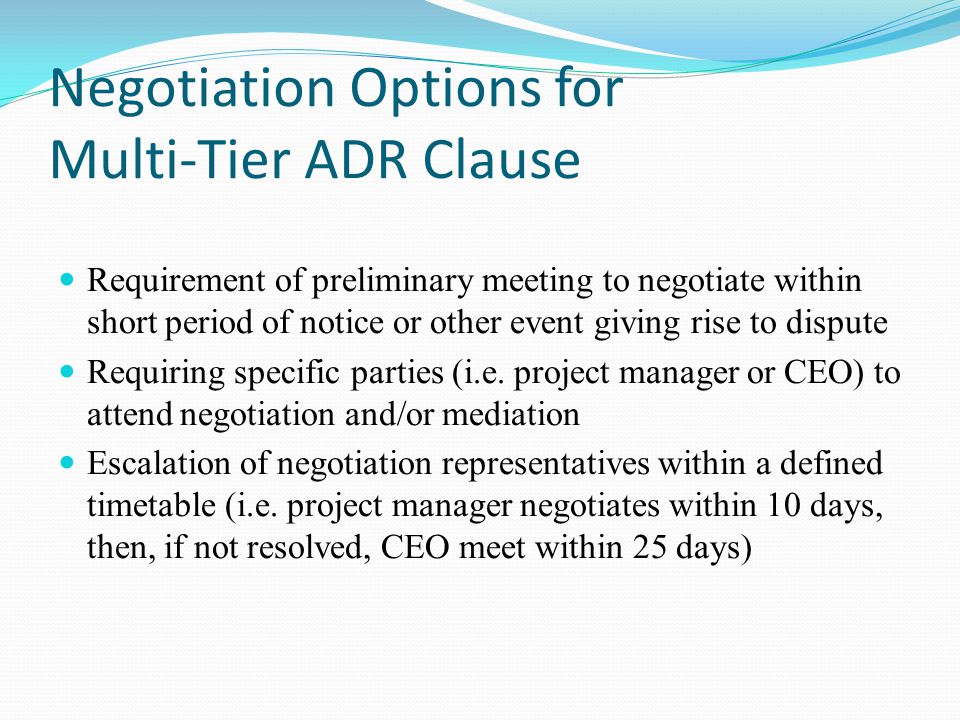 The last thing a business needs during an investor meeting is a visit from a plaintiff's attorney, process server or county sheriff serving papers on a sexual harassment lawsuit.
Best Cost Around –
Guaranteed
In support of ADR, we will write and structure a simple ADR clause at no cost to you. We also have many written sample clauses you're welcomed to incorporate into your contract or provide to your legal counsel. This saves you time, money and stress while establishing an alternative dispute resolution clause that will make disputes easier to manage.
If you need a more robust ADR clause or need some direction, we would be happy to provide a free initial consultation to discuss your requirements. We can write very complex dispute clauses for your direct use or provide to your legal adviser.
Contact US, we are your alternative to court.